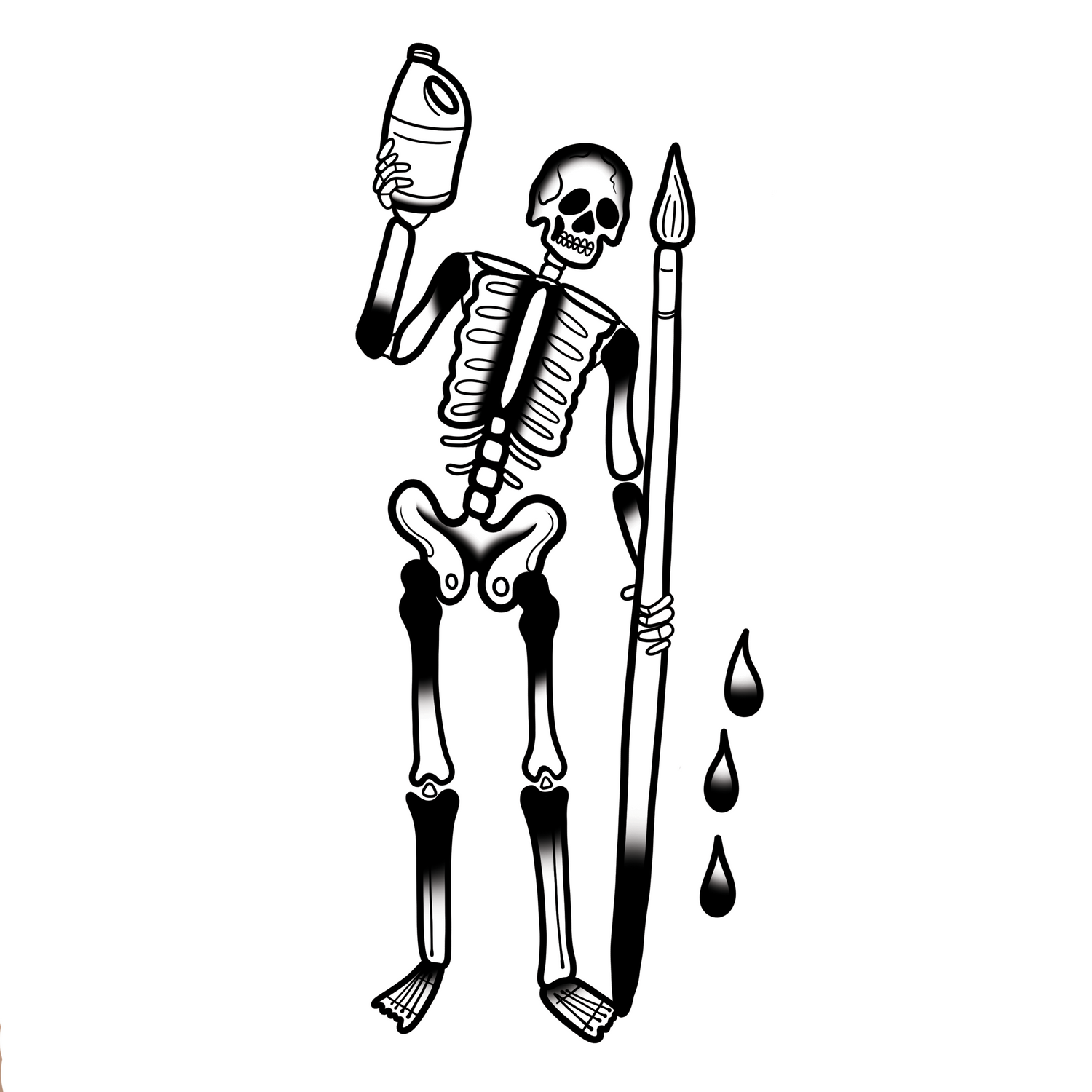 PAINTED BY HAND
Made with love (and bleach...)
All of our clothing is hand painted and made to order. We have hoodies and T-shirts that are fully customisable, perfect as a gift for someone, or for if you just want to treat yourself!
SHOP

OUR 3 PIECES OF GUIDANCE
Just follow these 3 easy steps, to keep your new spooky clothing looking brand new!
FAQ
HOW LONG HAVE YOU BEEN DOING BLEACH ART?

'Spooky Little Bleach' was established in December 2021.

Since then our Artist, Lucie, has been creating all kinds of spooky clothing for you all!
WILL I GET HOLES IN MY CLOTHES?

There is a huge misconception that bleach will create holes in your fabric. This is essentially not true, unless you are working with a really thin or low quality piece of fabric.

We have experimented with all different kinds of fabrics, types of bleach & methods of working, and have never been able to burn a hole straight through the garment.

We only use clothing that is made of between 80-100% Cotton and at least 185gsm, to make sure they last. Our clothing is all neutralised after it is finished and then washed on a cool cycle before shipping.

As long as you follow our 3 pieces of guidance then your new spooky clothing will last just as long as thr rest of your clothes!
WHAT DO YOU MEAN BY 'NEUTRALISE'?

Once the garment is finished bleaching, it is submerged in a chemical solution that stops the bleaching action and removes the residual residue of the bleach. This solution is then removed with water so your clothing is ready to wear when it gets to you!
HOW DO I WASH IT?

Just follow our 3 pieces of guidance, to keep your new spooky clothing looking brand new!

-Wash at cooler temperatures (30-40°)
-Use slow spin cycles
-Avoid tumble drying - air dry only
RETURNS & EXCHANGES
RETURNS POLICY

Because our items are made to order, returns are considered case by case.

Custom hoodies/T-shirts are non-refundable as they cannot be resold. Because of this, please make sure to check the respective size charts!

Items from our permanent collections (Bat, skeleton, death moth etc) can be returned under most circumstances, as long as they are unworn and undamaged, and are sent back with original packaging.

We do not accept exchanges.

Please send us a message if you are unsure.